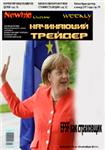 Magazine "New Trader" - Russian Business' weekly e-zine, for traders of all levels ..

What is written in the magazine? We write about everything. On the pages of the magazine "New Trader" can be found analytical material for the stock and forex markets, training material for traders original investment ideas, strategies and trading systems, the history of the development of markets, etc.


Our mission - to enable a beginner or consist traders in one edition to get qualitative information about significant areas of the financial markets and the life of society.