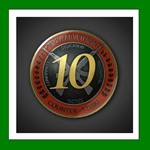 After payment, you instantly get access to your Steam account (login and password) and mail (login and password)

The account was registered in 2004. 7 digit steam id. Account has Counter-Strike, Counter-Strike: Condition Zero

CS:GO Prime status missing

After entering the game, two medals for 5 and 10 years veteran will appear in the inventory

ATTENTION!!! Medals will appear only after you enter the CS GO game! To do this, follow the link in the store and click "Play"
https://store.steampowered.com/app/730/CounterStrike_Global_Offensive/

Our guarantees:
- 15 years on plati.market! Quality checked by time!
- More than 120 thousand sales!
- Over 20 thousand positive reviews!
- Business level Webmoney - 550!
- Lifetime warranty on all products!

The game has no territorial restrictions - REGION FREE and is suitable for activation in any country.

Languages: Russian, English, French, Italian, German, Spanish, Dutch, Polish, Portuguese, Korean, Chinese, Spanish, Japanese, Thai, Chinese, Turkish, Czech

@MediaSoft - 15 years at plati.market! Quality checked by time!
7 dig 2009 - 5 and 10 year veteran CS GO

Новинки и популярные игры:

Counter Strike Global Offensive - https://goo.gl/Ztg1L5
Terraria - https://goo.gl/3l5IVG
Rust - https://goo.gl/nkPDtd
Garry´s Mod - https://goo.gl/DsRmju
Rocket League - https://goo.gl/iL8K7F
Conarium - https://goo.gl/jiv8nm
Rising Storm 2 Vietnam - https://goo.gl/ljgCxx
PLAYERUNKNOWN´S BATTLEGROUNDS - https://goo.gl/b95aIh
Dawn of War III - https://goo.gl/CW8SwM
Euro Truck Simulator 2 - https://goo.gl/DEqqoC
Euro Truck Simulator 2 Scandinavia - https://goo.gl/Q4CKRo
Arma 2 II Операция Стрела + Arma II - https://goo.gl/lZcaAD
Tom Clancy's The Division - https://goo.gl/uagNq9
DARK SOULS 3 - https://goo.gl/M6axnJ
Dark Souls Prepare to Die Edition - https://goo.gl/3QZTz1