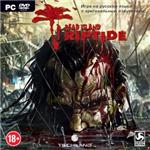 ++++++++
GIFT:
++++++++

Every second buyer (in random order) of all our products leave positive feedback - get one of the more than 40 different games to Steam. What? This you will learn when you get your gift in the mail.
It can be activated in the "Steam".

To get a gift you must:
1) Buy our game
2) to leave positive feedback with the comment "I want to gift" and specify it your E-mail
3) Wait.

Subscribe present case within 48 hours after writing a comment.
Attention !! Gambling Review - You warrant that you have read all the conditions for a gift, and if something is not clear - asked.

***************
Language: Russian
Platform: PC
Activation: Steam
Regional restrictions: Russia, Ukraine and CIS

CAUTION The key can not be activated in Origin.

***************

Escape from the teeming dead island Bana tourists naively believed that this test is over. But they are deeply wrong ... After leaving the damned island by helicopter, the characters moved to a military vessel. It seemed like a nightmare in the past, but a sudden storm survivors abandoned the island Palaney, which also penetrated insidious virus that turns people into zombies. Fight for survival turned with renewed vigor!

Dead Island: Riptide is a hurricane of cooperative action with RPG elements and an open game world. Look forward to new locations, even more terrifying enemies and powerful new weapons. In addition, companies get away with Bano people to add a new character - a chef with a warship, John Morgan. This magnificent five and will make every effort to leave the damn island, thus preserving their lives.

Features:
- An excellent first-person shooter with an open game world and stunning multiplayer.
- The nightmare continues. Heroes of the original game throws on another island of the same archipelago, which is also full of the undead.
- New locations, enemies and weapons, as well as a new vehicle - boat.
- The old familiar characters and a new playable character - John Morgan, a chef with a warship.