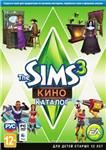 ● Ninth catalog for The Sims 3 best films inspired by cinema and will allow you to recreate the atmosphere of the game popular films. The output directory is scheduled for September 2013.

● exact copies of objects and costumes from the films will not be specific, since it is connected with the need to respect copyright. Therefore, the composition of the catalog will be divided into three areas corresponding to the three types of movie: horror, heroes and villains, Western. All items will be free interpretation of these topics, but some of them you can easily learn your favorite movies!

● Subject horror will be primarily associated with vampires and gloomy gothic surroundings of their castles. Perhaps, in addition to vampires, interiors and costumes are already included in the two published addon, we are waiting for other heroes of scary movies and objects are added to the horror game.

● Superheroes and villains - another popular theme that has always collected a lot of spectators at screens. One of the characters, who served as the prototype for the directory became Batman. His famous Batmobile will be able to flaunt in the garage of your Sims!

● It is also reflected in the catalog and classic westerns. The atmosphere of the saloon and playful cancan dancers outfits will bring the spirit of the Wild West in The Sims 3!


\u003cdelivery\u003e The original copy of the key, the license agreement and all copies of the software in its original packaging, you can get a convenient way for you. To do this, after payment and receiving a digital copy of the key, please contact us by email or phone. Postage and packing, as well as courier services are paid separately by you. \u003c/delivery\u003e


!!! Attention !!! For the game need to establish the original version of the game The Sims 3
1. Download and install the EA Downloader - Origin. (
Http://www.origin.com/download
)
2. Start EADownloader - Origin.
3. Run the EA download manager and on the "Activate" enter the purchased key
4. Log in using your e-mail and password specified
when registering on the website of EA. If you have not registered on this site, create a new account.
5. Download the distribution (to write "download" - you need to download, and not to put on top of the Pirate).