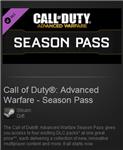 Add-on Information

Season Pass Call of Duty®: Advanced Warfare at a reasonable price ** will provide you with access to four fascinating set of cards *, each of which contains an exciting new content for multiplayer games and more.


It starts right now. Season Pass gives you access to the multiplayer map Atlas Gorge, an updated version of the beloved fans Pipeline maps for Call of Duty® 4: Modern Warfare®. Explore previously inaccessible locations, use the exoskeleton technology Advanced Warfare, takes control of destructive turrets.


* Content of the Season Pass may be sold separately. Content will be available in 2015, after the release of the game (4 November 2014). If you purchased a season pass or a collector´s edition with a seasonal pass, do not buy included in the Season Pass DLC separately, as for that you will be written off with the appropriate fee.


Requires game Call of Duty: Advanced Warfare (sold separately). Season Pass and DLC may not be available in some countries and on some platforms. The price and release date on different platforms may vary.


** Based on the recommended retail prices; the actual benefits may vary.