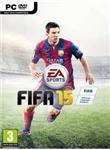 Sup, Buddy!
Fifa 15 - Historic Club Kits
Platform: PC, Origin
Region: Regionfree
Type: Key(DLC)
You receive your game immediately after purchasing it.
FIFA 15 Keys and their expansions are sold in the form of electronic districution and without any cd-discs or boxes.
Languages: English, German, French, Italian, Dutch, Danish, Japanese, Portugese, Swedish, Norwegian, Russian
Requires FIFA 15 on Origin in order to use.
Stand out from the crowd! Instantly unlock Historic Kits from classic teams in football history. Historic Kits are both available in FIFA 15 and FIFA 15 Ultimate Team.
Feel free to contact me whenever you need to.
See you, buddy :)
Please note all keys and gifts are unique items and are final sale.

================================
!!! ATTENTION PAYPAL PAYERS !!!
================================

!!!!PRESENT!!! TO GET A PRESENT, YOU NEED TO WRITE A POSITIVE FEEDBACK WITH THE PHRASE "I Want A PRESENT" AND AFTER THIS, DUBLISH THE SAME MESSAGE (in the PUBLISHMENT WITH SELLER tab, on the order page Oplata.info)
AFTER PERFORMING ALL ACTIONS, YOU GUARANTORS GET A PRESENT AS A RANDOM GAME on Steam