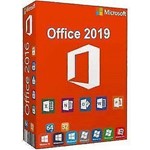 Microsoft Office Professional plus 2019

Contains all Office applications:
Outlook, Word, Excel, PowerPoint, OneNote, Access, Publisher
 deliveryOnly for Windows 10 </ delivery>
 
Office Professional 2019 is a solution for families or companies who need it.
 a classic set of applications, plus Publisher and Outlook Mail, as well as Access and Publisher (for PC). One license is suitable for installation on one PC device (with Windows 10)

Outlook
Updated contact cards. Quick view of the most important information about people and groups, the same interface for the browser and mobile version.
Mentions To select key contacts, add an @ symbol in front of their name in the text of the letter or calendar entry, after which the contact will automatically appear in the list of recipients.
Sort mail. Using mail sorting, you can split your inbox into two tabs - "Sorted" and "Other." The most important messages are displayed in the "Sorted" tab, and the rest can be easily found on the "Other" tab.

Powerpoint
3D support - insert and work with three-dimensional objects in your presentation.
Transform analyzes the content of consecutive slides and adds animation to smooth the transition between slides.
Interactive table of contents allows you to make non-linear narratives, creating interactive summary slides.
The ability to move slides and objects using the digital pen.

Word
Translator (now available for Mac OS) - translate texts without leaving the application.
Focus mode (now available for Mac OS) - allows you to remove all unnecessary and focus on the text.

Excel
The funnel chart.
A timeline is a chart that allows you to plot a sequence of events on a linear timeline in chronological order.
2D maps - convert geographic data to high-quality visualization using 2D maps.