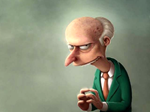 Find a decent job these days is not as easy as it seems, and I decided to describe my experience in the manual step by step, which want to offer you on this page.

In this tutorial I have tried to reflect all my experience of job search that every novice Internet marketer / direktologa / SMM specialist / copywriter has the ability to find a suitable job.

Of course I have a manual in your provide some secret "chips" with which I go directly to the head of the company and am negotiating with him directly, bypassing the HR department.

After all, money in the end it pays the director and if properly showcase his services, to define their value, then you will almost certainly take. As Internet marketers find
a job?