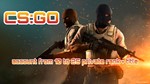 💡 INSTANT Delivery After Payment!
💬 Questions & Help in the online chat of the seller!

🎁 About Account:
✅ The account will be guaranteed to have from 10 to 20 private rank
✅ The account is guaranteed to have a rank from Silver to Global Elite (the rank may not be displayed due to the long absence of games in competitive mode)
✅ There is no prime on the account - you can see the private rank and title in the game statistics, or after purchasing the prime.
✅ Every third account has 1-10 games (Ark, Garrys Mod, PAYDAY2, Rust, CoD MW3, Hitman, L4D2, CS: CZ, CS: GO, Skyrim ...)
✅ All Accounts are Personal and Will Never Be Recovered!

Attention!!! Availability of inventory, Steam levels, access to the trading platform, the ability to add to friends and groups, wallet balance, the presence of other paid games are not guaranteed and is not a prerequisite, if something comes across to your account, this is your bonus !!!

Dear customers! In order to avoid misunderstandings, it is now necessary to record the fact of the purchase of goods on video, the video should begin BEFORE payment, (the video should show the system time on your computer) and end after the moment you log in to the email / account on the provided data. Customer complaints regarding incorrect data will be considered only if the buyer provides a video in which the purchase of the goods and an attempt to enter using the purchased data will be captured. These rules apply to everyone. Seller reserves the right to refuse support without providing this video.
💡 After payment you will receive a text file:
✅ login, password for Steam account.
✅ login, password from the Mail.
✅ I don't do returns, please read the Description!