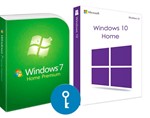 Key from official Microsoft partner.
The key is suitable for Windows 7 or 10 version of the Home Edition in Russian

The key is NOT: time-limited, MSDN / Dreamspark, multiple-account key (Volume MAK, KMS, multi-key), developer key, training version, or enterprise key

Need installation help? Write in the chat. After purchase, you will have access to additional channels for communication.

• Number of PCs: 1
* License type: RETAIL, no restrictions.
* Language: All languages
* System bit rate: x32/x64 bit
* Online support for updates.

Windows 10 Home product key

1) If you already have Windows installed:
Click the start button and select Update and security > Activation > Upgrade product key > to Change the product key.