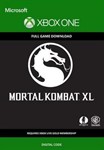 INSTANTLY AFTER PAYMENT, YOU WILL RECEIVE AN OFFICIAL / LICENSE KEY TO ACTIVATE THE GAME
✅ 🔥 Mortal Kombat XL FOR XBOX ONE 🎮
📌 Delivery of the key will be made within an hour (guaranteed🥇) and only during working hours from 11 to 01.00 Moscow time ⌚

📌 To activate the key, a VPN with a connection to Argentina is required 🌏
📌 After activation, the game WITHOUT REGIONAL RESTRICTIONS ⭐
💪 The game is forever associated with your Microsoft account 🔥
💥 You can download the game in any region and at any time, with all available languages ​​👍

==================================

Description:

One of the most popular games of 2015 now in XL format! Expand the boundaries of Mortal Kombat X with new and released add-ons. Includes the base game, new playable characters: Alien, Triborg, and Bo Rai Cho - and already released playable characters: Predator, Jason Voorhees, Tremor, Tanya, and Goro. Also contains the new Apocalypse Pack Skin.
Additional information
Instructions for activating from a phone without VPN: XBOX app on iOS or Android with mobile Internet enabled
1. Sign in to your account Microsoft.✅
2. Click the Menu icon in the upper left corner.
3. Click Redeem Code.
4. Enter a 25-digit code on the Code Activation screen, and then click Next to complete the process.
Phone Activation Instruction (VPN)
1. Download the Hola Free VPN Proxy app
2. Start it, select a browser and download from Argentina
3. Click on the link
https://redeem.microsoft.com
4. Log in to your account ✅
5. Activate the key
PC Computer Activation Instruction
1. Install the Hola Free VPN Proxy extension
https://hola.org/download?list=1
2. Click on the link
https://redeem.microsoft.com
3. Log in to your account ✅
4. Enable Hola and select a connection from Argentina
5. Enter key, click next to confirm activation