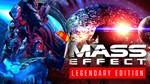 -Payment by Card is available. When buying, you must select the payment method Enot.io, then select "Bank Card"

-After purchase, you get a General STEAM account with the game MASS EFFEC LEGENDARY. Play after installation is possible only in offline mode.
-After the purchase, you will be given a login and password from the ORIGIN account in which the game has already been purchased, after installation it is possible to play only in offline mode.
-It may take 0-6 days to activate the game
-The account is unlimited, protected, it is impossible to change the mail and password. (the account remains yours forever)
-Be sure to read the "Frequently Asked Questions"


🤔Frequently asked questions❓

1. Can I use another account and log into this one again? - Yes, but once every 10 days.
2. Can I use my account after reinstalling Windows or on another personal computer? - Yes, but once every 15 days.
3. Can I transfer my account to a friend or third party? - No, it is forbidden to transfer data to another.
4. Can I update the game? - Yes, but once every 15 days ..
5. Can I get a refund if the game does not turn on due to the computer? - No, refund only if the account does not work or if we cannot issue you a replacement within 3 days.

🤩 Please leave your positive feedback after a successful purchase of the account!
PROS OF OFFLINE MODE
1. You don´t have to wait for the game to be hacked (game data with Denuvo protection, which cannot be hacked for more than six months, you will not find them on torrents)
2. The cost of a shared account is several times cheaper than the price tag on Steam (10-20 times)
3. You can complete the game 100%
Languages ​​& About This Game
https://store.steampowered.com/app/1328670/Mass_Effect__Legendary/
MINIMUM:
Requires 64-bit processor and operating system
OS: 64-bit Windows 10
Processor: Intel Core i5 3570 or AMD FX-8350
RAM: 8 GB of RAM
Video card: GPU: NVIDIA GTX 760, AMD Radeon 7970 / R9280X GPU RAM: 2 GB Video Memory
DirectX: Version 11
Disk space: 120 GB
📋INSTALLATION
1. Install the Steam client
2. Install the Origin client
3. Go to Steam with the username and password that you received
4. Download and install the game from Steam (or you can download it from a torrent in advance)
5. Go to ORIGIN with the username and password you received
6. Turn on the game from the STEAM client until the game menu appears
7. Disable the game
8. In Origin, in the upper left corner, click on the menu (Origin), click on exit the network (disconnect the origin from the network through the firewall)
9. Disable Internet Origin using farewell (Video Instruction
https://www.youtube.com/watch?v=VUr34fo8PvE
)
10. In Steam, in the upper left corner, click the menu (steam), put it in offline mode
11. Turn on the game
12. Enjoy the game
❗IMPORTANT
Always keep Steam offline, and block Origin with a firewall
If these rules are not observed, we will be forced to suspend service