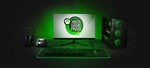 After activation, you get 4 active subscriptions (now they are active until 07.11.2024, but we always renew them!), which are included in the Xbox Game Pass: Ultimate
✅Xbox Game Pass PC
✅Xbox Game Pass (Xbox)
✅Xbox Live Gold
✅ Ea Play
✅ For a small cost, you get the legendary game Halo Infinite to your personal Microsoft Store account with the ability to play online!
✅All game progress is saved on your personal game account!
✅Among the games there are such as Sea of Thieves, Forza Horizon 5, and later S.T.A.L.K.E.R. 2 (possibly)!
From us you get 🙌 :

✅ The full version of games with Companies and DLC that are coming out or will come out in the future.
✅ Support and lifetime warranty. THE GAMES ARE YOURS FOREVER
✅ Region Free/Global (Can be played in any country)
✅ Instant receipt of goods
✅ 400+ online games and companies that are available in Xbox Game Pass for 3 years and we will continue to extend.

❔❔FAQ❔❔ :

❓ How does activation happen and what is it?
- Activation is simple and lasts a few minutes. We send you instructions and data from our account, you download the game from it to your account and you can play.
❓ Which service can I play through?
-Microsoft Store.
❓What is the guarantee that I will not lose the game from my account?
-Lifetime. In case of problems, please contact us and we will solve them.
❓ Can you deceive me?
- No. The platform on which we sell fully protects your rights and funds, and in case of violation of the rules, we will be sanctioned by the trading platform and the law.